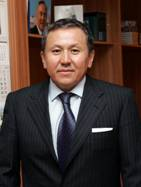 Smagulov
Nurlan Erkibulanovich
President of "Astana Group" holding company. He is a graduate student from Kazakh State University with a degree in "Biology and Chemistry" (1990). Born June 2, 1965 in Alma-Ata. By the decree of the President of the Republic of Kazakhstan was awarded by the Certificate of Merit for his contribution to the cultural development of the Republic of Kazakhstan (2006), the Order "Kurmet" (2007), anniversary Medal "10 Years of Astana" (2008). "Man of the Year" by the magazine «Esquire Kazakhstan" (2007). "Entrepreneur of the Year" in Kazakhstan according to the international audit company «Ernst & Young» (2008).
In 1990, Nurlan Smagulov was assigned to fish farmers work in production-acclimatization station. A few years later, when the business has become the main area of ​​applications of Nurlan, the plant manager said: "It is a pity that this guy is gone from us. How talented fish farmer he was! ". Here, indeed, It isn't the place that graces the man, but mans the place.
Again, the Kazakh State University. The first business projects in the university. Nurlan Smagulov convinced the faculty senior management to implement new forms of funding for research and created a small research and production enterprise "Nurbulak", which lasted almost ten years.
Creation of "Madina", a small enterprise, was the next step. Further more! In the first commercial television stations advertisement "In the New Year on a new car!" emerged So in 1992, for the first time, Kazakh Motor Company "Astana Motors" declared itself. Today it is full "brand" in Kazakhstan. The leader of the domestic avtoretail by the quantity and quality of services provided. "Astana Motors" – is a broad private and dealer network in the regions of Kazakhstan.
In 1996, the country's leadership has entrusted Nurlan Smagulov to be the head the State Food Contract Corporation. After that the first major contracts for the supply of grain for export were enclosed, private entities that were responsible for supervising the entire cycle - from production and storage of grain, prior to its sale and processing, were created. The group of companies "Grain Industry" created by Smagulov in 1996 has taken a strong position in the market, becoming a leader in the production of flour and macaroni in Kazakhstan, as well as the largest exporter of the grain. The peculiarity of the company is complete closed cycle of production - "Grain Industry" division carries out the entire production chain, from seed selection to the finished product.
The liberalization of the land legislation suggested Nurlan other ideas for the development of business activity - construction. Smagulov create and embodied the ideas of now popular network of shopping centers MEGA. At the end of 2005, Nurlan Smagulov assembled automobile, grain and construction unit firmly under the roof of the parent company "Astana Group".